Learn about Bike Electrification!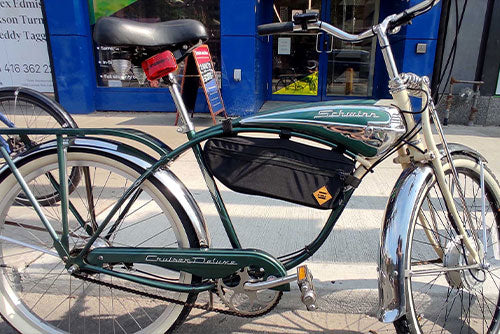 Your favourite bike + an E-Bike Kit = A better E-Bike
What do I need for an E-Bike Kit?
1/ Bike
We will install E-Bike kit on most bikes with the exception of:
Vintage steel bikes

Carbon frames and/fork bikes

Bikes with poor brake system (bulldog callipers)
2/ Motor
Based on your preferences and your the bike you want to  several options are possible as far as motorisation:
Front wheel

Pros:

The simplest and cheapest set up

The easiest to install and remove

Cons:  

Potential skid on icy surface
Rear wheel

Pros:

Uncomfortable with the idea of having a motorised front wheel.

Cons:

 Stress on the spokes

Complexity of installation, cassette, freewheel...
Mid Motor

Pros

For performance and a better weight distribution

Cons:  

A lot of stress on the transmission

Most expensive

Less reliable.
3/  Battery
Frame battery

is preferred for  most bikes due to availability and installation point.
Rack battery

 could be hard to find
Bare battery

will be installed in a bike bag. It is the least and easiest to install.   It is the least secure,  the battery will be an easy target for thieves if left on an unattended bike.
4/ Components
A display

that will show your battery level, speed…

A throttle

that you can push to ride your bike like a motorcycle

A pedal assist sensor aka PAS

that will sense you pedalling 

Brake sensors

that will stop the motor when you apply the brakes.
How to choose the perfect kit?
This is where the team at Repair and Run takes over to ensure your needs are met and you have a safe and reliable ride once the installation is complete.
What we will need from you:
A picture of your bicycle

or  the make and model to allow us to determine your  bike can support the installation of an  to accept E-bike Kit 
Matching the power supply with your riding preferences.  Batteries range from 250w to 500w.   E-Bikes  in Canada are limited to a 500 W output and cannot travel faster than 32 km/h (20 mph) :

Flat, hills (more power and range needed with hills)

Distance (more range needed with longer distances)

Leisure/ sport/ commuting (will change power need)

Frequency of use (will change quality and range needed)

Speed needed (will change power need)
Additional advantages of choosing an E-Bike Conversion Kit ?
Electrifying your own bike has many advantages:
Keep all that you love about your current bike.

Environmental benefit of reusing a bike 

You can use the money saved to upgrade your bike, suspension seat , folding stem, better tires…

Every single component can be adapted and upgraded to your needs.

Repair and maintenance is easier as E-bike kits use standard  components 



Send us your request and questions at info@repairanrun.ca
See our article ''E-Bike Essentials'' for more !