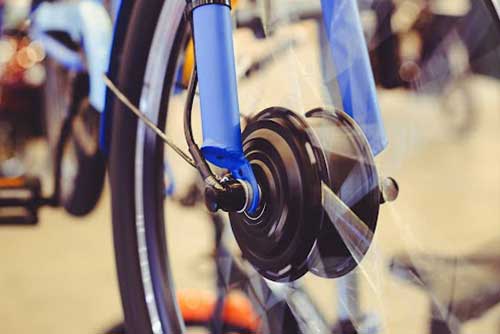 Essential facts for New E-Bike Riders

E-bikes law
Age 16 or Older

A maximum assisted speed of 32 km/h

A maximum weight of 120 kg (includes the weight of the bike and battery)

An electric motor not exceeding 500 watts
E-bike Types 
In general the most reliable and less expensive
Front wheel will be great for weight distribution but can be a bit harder to ride in icy conditions. Front wheel will be the easiest to maintain.
Back wheel is the most common, avoid bikes with rack battery and rear drive as all the weight will be on the back. 
Starting price is $1300.
They comes as E-bike kits like Bafang motor or with most High ends E-Bikes with 
Bosch, Yamaha, Brose, Shimano engines. 
They cause a lot of stress to the drive-train.
Starting price is $3000.
E-bike components 
An E-Bikes is composed of the following components:
Motor.

Battery.

Harnesses.

Display / Speedometer.

Controler .

Sensors, sensors detect when the battery needs to release electricity to the controller that will be sent to the motor. Several type of sensors exists:
Sensors, E-bikes can have one or several of these:
Throttle comes with several shapes , also called accelerator, a device on the handlebar that will give you a 0 to 100% power control.

PAS, this is the Pedal Assist System.

Torque sensor , a PAS or dropout sensor with a torque sensor capability that will adapt the power to the foot pressure applied on pedals, more comfortable.
They are a bit less reliable and more expensive to maintain than a basic PAS.
E-bike usage
All E-Bikes can be ridden without assistance.

Select your speed mode according to your desired level of effort and your urge for speed, the highest level the lowest range.

E-bike are fast, one needs to respect other slower riders around.

E-Bikes wear faster, hub motors cause spokes issues, mid drive gives a lot of stress on drive-train. Your brakes will be much more solicited as the overall bike's components.

Always pedal on startups to help the motor going from 0 avoiding too much stress to the electrical component and motor. 
Battery Facts
Store it at 50-70% charge in a cool dry place.

Don't expose batteries to heat or cold .

Charge in between 20% to 80%, don't discharge under 20 and don't charge before .you reach 80%.

An E-Bike Battery will last between 3 to 6 years depending on usage.

Avoid leaving your battery charging overnight. Make sure to disconnect the charger from the battery and the wiring after loading it with electricity.
Power / Range / Volt.
Volt X Ah = Wh.
Ex : 36Vx15Ah= 540Wh.
1 miles every 20Wh (1.6km).
This battery will give a range of 27 miles / 44km.
Maintenance
Do a proper tune up every 500km, chain will need to be replaced on a mid drive motor

Hub drive wheel needs attention to the spokes, a spoke tensioning and wheel truing is advised every 500km.

Check your battery connectors for corrosion.

Avoid moisture at all costs , usage under rain is not always forbidden but one can dry his bike after a wet ride.

Check for strange sounds and play then identify the issue before going to another ride

Make sure your brakes are good enough.
Rémy Dunoyer