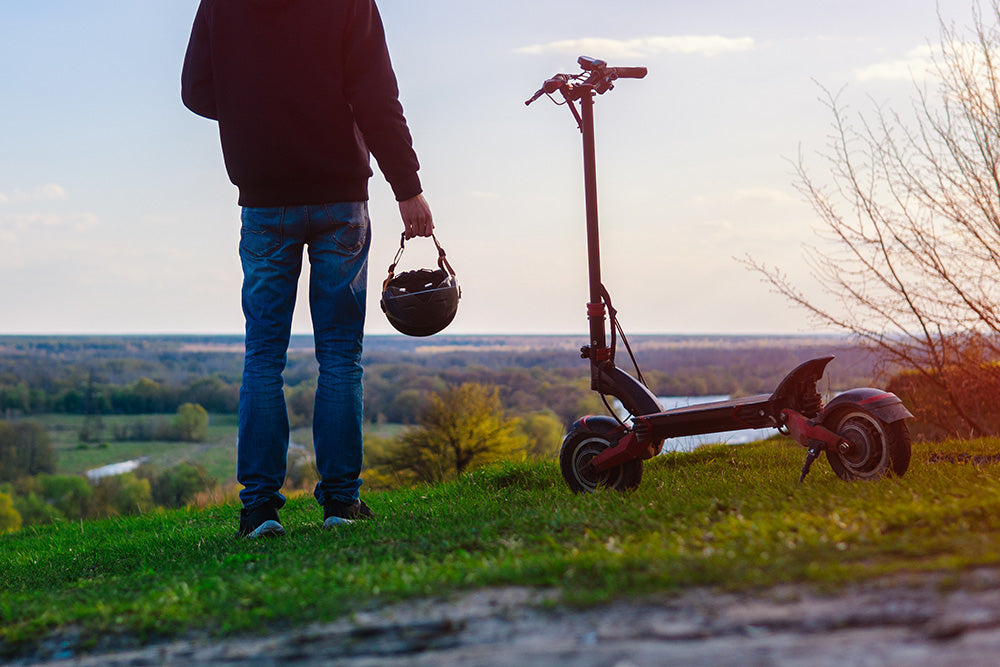 E-Scooter are only permitted where the Ontario E-Scooter program was approved.
See below pilot requirements*
E-Scooter Safety
Ride Alone

Keep a reasonable speed and always stay under the legal speed limit

Look ahead and keep your eyes on the road

Keep both hands on the handlebar at all times!

Always wear a helmet when riding

Use lights and use a bell or audible warning device; be seen and heard

Always slow down before a turn.

Tune up your E-Scooter often. 

Never ride a malfunctioning Scooter.

Be aware of pedestrians, cyclists and others

Always maintain a safe distance while riding

Ride only where you are allowed to, and never on the sidewalk.
E-Scooter maintenance tips 
See our post on maintenance here.
Inflate your tires often to the recommended pressure :

Less flat tires

More Range

Safer Rides

Tighten all the bolts or give us your E-Scooter for a Tune up every 500km or two months

Save on the long run

Better riding Experience

Safer rides
Avoid moisture at all costs. Extended use in the rain is not recommended.   Always dry off your E-Scooter after a wet ride.

Check for strange sounds and play where there shouldn't be.  If you can identify the issue, address it before going for a ride or take it to a service provider to have it addressed.

Make sure your brakes are working well.  It is recommended that you have our brakes inspected for brake pad wear and possible replacement every 1,000km of riding.
E-Scooter Components
An E-Scooter is composed of the following components:
Motor

Battery

Harnesses

Display / Speedometer

Controller


Throttle

Suspension (some models)

Kick-stand
E-Scooter usage
Select your speed mode according to your desired level of effort and speed.

E-Scooters are fast, so please respect other slower riders around.

Always push on startups to avoid too much stress to the electrical component and motor. 

Un-tuned E-Scooters wear down faster
Battery Facts
Store it at 50-70% charge in a cool dry place.

Don't expose batteries to extreme heat or cold.

Charge in between 20% to 80%, don't discharge under 20%.  Do not charge if your battery is at

or above 80% charged.

An E-Scooter Battery will last between 3 to 6 years depending on usage or 500 charge cycles.

Avoid leaving your battery charging overnight. Make sure to disconnect the charger from the battery and the wiring after loading it with electricity.
Power / Range / Volt.
Volt X Ah = Wh.
Ex : 36Vx15Ah= 540Wh.
1 miles every 20Wh (1.6km).
This battery will give an average range of 27 miles / 44km.
*Requirements
E-scooter requirements
E-scooters allowed under the pilot must have:
a maximum speed of 24 km/h on a level surface

a maximum weight of 45 kg

a maximum power output of 500 watts

two wheels and brakes

a horn or bell

at least one white light on front, one red light on rear and reflective material on sides

a maximum wheel diameter of 17 inches
E-scooters must not have:
Operator requirements
To operate an e-scooter under the terms of the pilot you must:
be at least 16 years old

stand at all times while riding

wear a bicycle helmet if under 18 years old
You are not permitted to:
carry passengers

carry cargo

operate an e-scooter on controlled access highways (for example, 400-series highways, QEW, etc.)
Other requirements
Similar to bicycles, all Highway Traffic Act rules of the road apply when riding e-scooters. Penalties will also apply to violations of the pilot regulation (fine of $250 to $2,500).